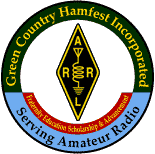 This weekend April 13th & 14th is the Green Country Hamfest in Claremore, Oklahoma. This will be my first time attending, so I am excited to check it out!
I will be going with Stephanie KG5EOO, she will be having a table set up with custom-made Ham related items. Vinyl decals, pins, etched coasters, clocks, and other special order items, like name badges and LED signs. http://www.prolazercutz.com/xcart/
I will also be helping at the CORA table, promoting Ham Holiday. Ham Holiday is July 27th & 28th. This year we are will be at the Tower Hotel in Oklahoma City. Our guest speaker this year will be Valerie Holtfeld NV9R from Ham Nation! For more information visit: http://hamholiday.com/
The YLRL will have their information about the YLRL http://ylrl.org/ and the YLRL Convention that the District 5 will be hosting in August. You can get more information here: http://ylrlconvention.org/
Hope to you there!
Leah
W3LEO